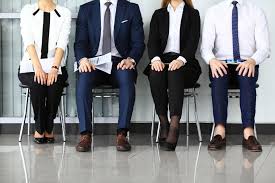 "Dress for Success"
What is the appropriate way to dress for an interview, especially in the medical field? How do you appropriately present yourself when interviewing for school, jobs, etc.?
Below are some do's and dont's of dressing for interviews.
Do's:
Hair clean and styled
Simple makeup – natural look
Facial hair trimmed and professional looking
Neutral clothing colors (white, navy, black)
Simple color/neutral patterned ties
Conservative clothing
Knee length skirts for women with nude stocking
Proper dress shoes
Neutral nail polish/clean nails
Mild or no perfume/cologne
Dont's:
Crazy hair or "bed head"
Big/distracting jewelry
Too much skin showing
Distracting colors/patterns
Open-toed shoes
Rolled up pants/missing socks
Not professional looking (graphic tees, shorts, etc.)
What is the difference between business professional and business casual?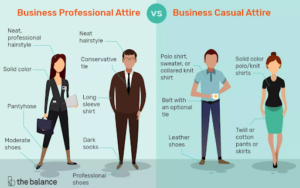 Sources:
https://www.workpac.com/what-to-wear-job-interview-v1/
https://www.google.com/imgres?imgurl=https%3A%2F%2Fspecials-images.forbesimg.com%2Fimageserve%2F476111824%2F960x0.jpg%3Ffit%3Dscale&imgrefurl=https%3A%2F%2Fwww.forbes.com%2Fsites%2Frobinryan%2F2019%2F11%2F13%2Fhr-reveals-what-you-should–and-shouldnt–wear-to-a-job-interview%2F&tbnid=yoDJG_BRwzMx-M&vet=12ahUKEwi3nJOrtsHpAhXGUawKHTllCOsQMyguegQIARB2..i&docid=uS3N69_WVgr8GM&w=960&h=640&q=interview%20attire%20for%20healthcare&ved=2ahUKEwi3nJOrtsHpAhXGUawKHTllCOsQMyguegQIARB2